Automonitoring
AUTOMONITORING system offered by the Alarm Monitoring Centre Sp. z o. o. originally a functioning since 2000, satellite monitoring Liberty GPS Vehicle AUTOMONITORING provides the highest level of vehicle protection against abduction and theft, as well as effectively support efforts to reach an optimal and efficient management of transport and logistics. The system works in situations where you need precise information on position and velocity during the passage of any object.
The effectiveness of the system shows the report drawn up by the Automotive Industry Institute, and given, applicable in the device, Certified Safety Professional in the classroom. AutoMonitoring system also met with appreciation the largest insurance companies, which are passed to the class system of special safeguards, eligibility for insurance rate discounts in the AC.
The system's capabilities:


localization

and

visualization of

the vehicle's position

on

a digital map

optimization of the

routes of the

recording

speed

supervision

over

the temperature

in any

part

of the vehicle

counting the

distance traveled

Authorization

and

registration of

drivers'

working time

level control

and

fuel consumption

Registration

of

refueling

protection

against

unauthorized

use

of vehicle

anti-theft

vehicle

AUTOMONITORING system consists of two main components: a compact unit mounted on the vehicle and servers in the Alarm Monitoring Centre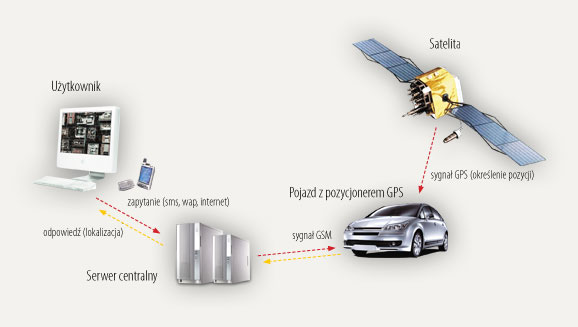 Inside the module are: designating a GPS receiver, based on satellite signals, the position of the car and GSM transmitter transmits data to the server Alarm Monitoring Centre. The device has contacts for connection of the panic (the red button), system authentication and a number of inputs and outputs allow interaction with the interactive systems are mounted in a vehicle such as an alarm system, immobilizer, fuel level probe, temperature display in store, starter, etc.

All collected data are stored in memory. If the transmitter is located in the GSM operator's network coverage, these data along with information about the location servers are sent to the CMA. In the case of momentary loss of connectivity, GPRS, the system automatically switches to SMS-like communications,

The device due to its small size can be installed in one of several dozen places in the vehicle, and therefore it is very difficult to detect. The location of the module, in principle, it is known only by an authorized installer. In this way a thief can not force a user to provide information about the location of the device. The module is equipped with emergency power and has advanced features of self-checking, so any attempt to dispose of or malfunctions are immediately signaled in the Alarm Monitoring Centre. Servers Alarm Monitoring Centre are responsible for the continuing 24-hour treatment and access to data transmitted from devices.

Authorized users are able to continuously track current information from the vehicle, as well as archival data. Access to servers is possible, after entering the password, from any computer with internet connection.